October 5, 1941–April 25, 2021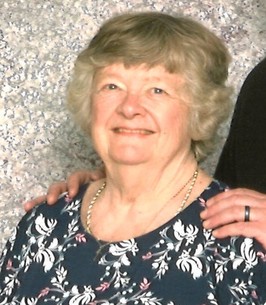 Donna Patricia Mosher (Baerg) was the youngest child of Menno and Bertha Baerg. She was born on October 5th, 1941, in Port Alberni, B.C, Canada.
In 1959, Donna attended Pacific Lutheran University in Tacoma, WA.. She studied pre-med for two years, before transferring to University of Washington in Seattle, WA where she met her future husband, Mel. In 1963, Donna graduated from University of Washington with a Bachelor of Science in Microbiology. On June 19th, of the same year, Donna married the love of her life, Dr. Melvyn (Mel) Mosher.
The couple moved to Idaho, where Donna served as a Laboratory Supervisor at the Intermountain Forest and Range Experiment Station, while Mel finished his PhD. They moved to Edmonton, Alberta, Canada for a few years before moving to Huntington, WV. She was a devoted wife and mother to her three sons: Michael, Craig, and Tom. Education was a lifelong passion of the Mosher family, and in 1974, Donna graduated with a Master of Science in Biology from Marshall University in Huntington, WV..
After graduation, Donna and her family moved to Joplin, MO. In 1976, she began working as a Medical Technologist for Oak Hill Hospital, now a part of the Freeman Health System, specializing in Bacteriology and Hematology, until her retirement in 2003.
Donna embodied living her life to the fullest and she constantly pursued her passions. As an active member of both the Joplin Area Town and Country Quilters and the Stitch Group, Donna participated in several community service projects, quilting retreats, and live quilting demonstrations at George Washington Carver Days. Donna was also a globetrotter, who frequently traveled the world. Several memorable trips include: Australia, Iceland, Costa Rica, Italy, Cuba, and a riverboat tour down the Danube River through Germany. Education and learning opportunities were essential to the Mosher family, and Donna was a lifelong learner with an insatiable thirst for knowledge. She took courses in Computers, French, Spanish, and Sushi Making.
While quilting, traveling, and learning were a large part of Donna's life she was also an active member of the Joplin community. Donna was a member of the St. Paul's Methodist Church, coached several generations of youth soccer, and was a member of the Foreign Food Club. Everyone who met her was touched by her compassion, love of adventure, and friendship.
Donna is preceded in death by her husband, Dr. Mel Mosher. She is survived by her sons; Michael and wife Kristie (Greeley, CO), Craig and wife Theresa (Independence, MO), Tom and wife Stacey (Osage Beach, MO); her brother, Richard and wife Judy (Gig Harbor, WA); five grandchildren, and seven great-grandchildren.
Throughout her life, Donna was altruistic and generous. She was an annual sponsor of the Rainbow Network and Heifer International. She also frequently donated to Wounded Warriors, St. Jude's, St. Paul's Methodist Church, several former colleges and universities, and the Mosher Scholarship Fund at MSSU.
In lieu of flowers, please consider making a donation towards the charity of your choice in Donna Mosher's name.