December 1, 1969–March 20, 2021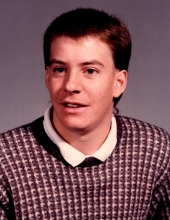 Mr. Lance Clayton Hodson, 51, of Joplin, Missouri, departed this life on Sunday, March 21, 2021, at his residence.
Lance entered this life on December 1, 1969, in Joplin, Missouri, born to the union of Donald and Donna (Hitchcock) Hodson. He was a lifelong area resident and a 1988 graduate of Joplin High School. Lance was a buyer and seller of antiques. He enjoyed football, baseball, playing his guitar and caring for his beloved dogs.
Lance is survived by his parents, Don and Donna Hodson of Joplin; a brother, Bruce Hodson and wife, Becky, also of Joplin; a niece Haley Hodson of Joplin; a nephew, Zak Hodson and wife, Ashley, of Joplin; as well as a host of other family and friends.
Graveside services are 2:00 p.m. Wednesday, March 24, 2021 at Ozark Memorial Park Cemetery in Joplin with Jim Bowles officiating. Arrangements are under the direction of the Hedge-Lewis-Goodwin Funeral Home in Webb City.