September 28, 1931–July 7, 2020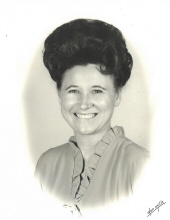 Clara Mae Martin of Springfield, Missouri, went to be with the Lord, at the age of 88 on July 7, 2020, after battling the effects of successive strokes. Clara passed away in peace at the home of her daughter, surrounded and cared for by loved ones.
Clara is survived by her daughter Barbara Smith, son-in-law Fred "Cowboy" Stone, daughter-in-law Deborah Martin, seven grandchildren, and six great-grandchildren. Clara had assured everyone that she was ready and longed to see her late husband, two sons, siblings, and many friends who have gone before her. Clara is preceded in death by her husband Gilbert H. Martin, sons Ronald and Johnnie Martin, and grandchildren Jennifer and Steve Martin.
Clara was a lifelong dedicated Christian who fulfilled many roles in the church including Missionary President, Music Director, Sunday school teacher, and Children's church teacher. Clara walked her faith with strength and courage. Clara was a gifted encourager and often opened her home and heart to those in need. She aspired to bring the love of Christ to others. She enjoyed reading, singing gospel, collecting angels, and cooking great feasts.
Visitation will be held from 6:00 to 8:00 p.m., Thursday, July 9, 2020, at Walnut Lawn Funeral Home, 2001 W. Walnut Lawn St., in Springfield. A funeral service will be at 11:00 a.m., Friday, July 10, 2020, at the funeral home with Pastor Ted Cederblom officiating. Burial will follow at 1:30 p.m., in Ozark Memorial Park, 415 N. Saint Louis Ave. in Joplin, Missouri.