February 12, 1931–July 5, 2020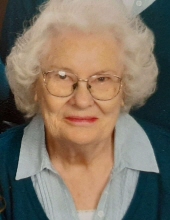 Mary Lee Newman, 89, of Joplin, Missouri, passed away Sunday evening, July 5, 2020, at Spring River Christian Village.
Mary was born on February 12, 1931, in Pueblo, Colorado to the union of the late Ira and Lucy (Peterson) Green. She was a 1949 graduate of Pineville High School in Pineville, Missouri. Mary's family has raised six generations in the Joplin area.
Mary worked in retail sales, retiring from K-Mart in 1982. She also worked as a homemaker taking care of her children. Mary enjoyed volunteering at elections and attending social dance events at the VFW. She was a mother through and through and well loved by everyone. Mary accepted everyone with open arms just as they were. She loved her family, especially her grandchildren, and will be missed by all who knew and loved her.
On June 24, 1950, she was united in marriage to Kenneth Newman and together they shared 32 years together before his passing in 1982.
Mary was also preceded in death by five children, Barbara Smith, Brenda Moore, Johnny Newman, Phillip Newman and Kenneth Newman; and her loving companion, George Heiser, Jr, in 2011.
She is survived by three children, Marian Woolsey and husband, Denny, of Oronogo, Missouri, Lee Newman and wife, Lorie, of Scammon, Kansas, and Gay Lynn Newman, of Joplin, Missouri; 14 grandchildren; 16 great-grandchildren; two great-great-grandchildren; as well as a host of extended family and friends.
Graveside funeral services will be held at 11:00 a.m. Friday, July 10, 2020, at Ozark Memorial Park Cemetery in Joplin with Pastor Alan McCamey officiating. The family will receive friends for visitation on Friday from 10:00 – 10:45 a.m. in the chapel of Thornhill-Dillon Mortuary.