September 11, 1939–May 30, 2020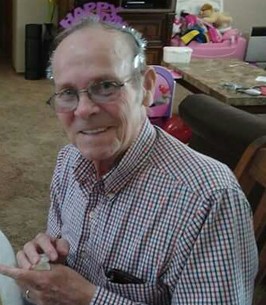 Kenneth Owen Dinwiddie, age 80 of Joplin, Mo., passed away Saturday, May 30, 2020 at his home following an illness.
Kenneth was born on September 11, 1939 in Joplin, the son of Benjamin and Helen (Bradshaw) Dinwiddie. Kenneth proudly served his country in the U.S. Navy during the Vietnam War. Following his service, he worked as a Small Engine Mechanic before becoming the Maintenance Supervisor for J.C. Penny in Joplin for a number of years before retiring in 2001. Kenneth was a member of Harmony Heights Baptist Church and was a born again Christian.
Kenneth was a dedicated Husband and devoted Father and Grandfather. He would do anything for anybody and ask nothing in return. Throughout his life, he demonstrated his love for his Savior Jesus Christ, his family and his country in that order. Ken was loved by many and liked by all who came in contact with him.
He married Reba Morse on July 9, 1993, she survives. Additional survivors include a son; Brian Dinwiddie and wife Kim of Webb City, Mo., a daughter; Janell Smith and her boyfriend Michael Newman of Carthage, Mo., step-children; Aimee Taylor and husband Brian of Joplin, Donna Serio and husband Rob of Rogers, Ar, Rick Chisum and wife Sue of Henryetta, Ok, Barbara Brown and husband Keithen of Paris, Tx, two sisters, including his twin, Colleen Forgey and Bonnie Wall both of Kansas City, Mo., sister -in-law Mary Kimball and her husband Ronnie of Comanche Ok, 12 grandchildren and 8 great grandchildren.
Funeral services have been scheduled for 2:00 p.m. Friday, June 5, 2020 at the Mason-Woodard Chapel. Burial with military honors will follow at Ozark Memorial Park Cemetery. The family will receive friends during a time of visitation from 6 to 7 p.m. Thursday, June 4, 2020 at the mortuary.