February 27, 1945–April 28, 2020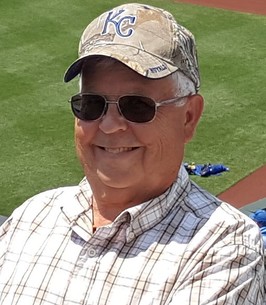 William "Bill" Reed Thompson Sr., 75, passed away Tuesday April 28th at his home after a courageous battle with cancer. He was born February 27th, 1945 in Ardmore, Oklahoma to Joseph Lafayette Thompson and Willie Aline (Reed) Thompson, who preceded him in death. He has one surviving brother, Joe B Thompson, Norman, OK and was preceded in death by one sister LaNita Cloughly and a brother Leonard Thompson.
Bill graduated from Liberal High School in Liberal, Kansas in 1963. He then attended Fort Hays State University in Hays, Kansas where he met Norma Jean Sander and they eventually married on October 2, 1965 in Hays, Kansas. Bill then joined the United States Navy in 1966 where he served honorably until his discharge in 1970. He was assigned to the "Connie", the USS Constellation Supercarrier where he was a flight deck crewman. He spent 1 year overseas in Vietnam and supported famous squadrons like the "Screaming Eagles" and "Silver Kings". He was also stationed in Pensacola, Florida and San Diego, California, before his discharge. He continued his education at The Spartan School of Aeronautics where he trained as an aviation maintenance technician. Spartan's motto "Knowledge and Skill Overcome Superstition and Luck" was a creed he carried throughout his life.
Bill and Norma moved to Joplin in 1972, where he remained until his passing. He was a lifelong mechanic and started his own shop, American Automotive. After 20 years of working for himself, he went on to work for a long-time friend Russ at Moser Fleet Service, which was then purchased my Diamond International where remained until his retirement in 2010. He was duly regarded as one of the best mechanics in the four-state area.
They had 3 sons, William Reed Thompson Jr and wife Jody with grandchildren Bailey and Will. Michael Paul Thompson and wife Danielle with grandchildren Isaac Garrity, preceded him in death, Matt Garrity and Dylan Thompson. Joseph Lee Thompson and wife Kelly and grandchildren Marshal and Joe Blank.
Bill had several "hobbies" over the years, flying, reading, hunting and fishing, canoeing and kayaking, playing cards and pool, bike riding and the latest, making bread. He believed a satisfactory hobby must be in large degree, useless, inefficient, laborious or irrelevant and should not need or seek rational as it is leisure time. The desire to do it is reason enough as an assertion of liberty. Bill's favorite leisure time activity was music. He loved to write, play and listen to music. The only thing that rivaled music in his life was his grandkids. He loved sharing his music knowledge and teaching them some piano. He also loved to tell life stories and teaching them about local history and exploring local museums.
Music was the conduit that nurtured Bill's greatest human characteristics. His appreciation and gratitude for people fostered genuine connections with nearly everyone he met. Friends felt an immediate kinship with him, and his kindness was transcendent. He took great pleasure in helping others and making them laugh. He was aware of how blessed he was in life and will be sorely missed…GOD Bless.
In lieu of flowers, memorial contributions may be given to the Joplin Museum Complex.
The service will be live-streamed at 10:00 a.m. Saturday, May 2, 2020 at masonwoodard.com. Burial will follow at Ozark Memorial Park Cemetery. Open viewing will be available from 9:00 am until 4:00 p.m. Friday, May 1, 2020 at Mason-Woodard Mortuary.
Arrangements have been entrusted to Mason-Woodard Mortuary & Crematory.