October 6, 1958–April 20, 2020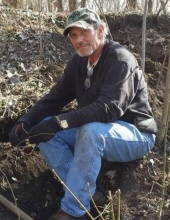 JOPLIN, MISSOURI: Keith Vincent Glades, age 61, passed away suddenly from natural causes April 20, 2020 in Joplin.
Keith was born October 6, 1958 in Galena, KS. His parents were Harry Vincent and Norma Jean (Langford) Glades. He graduated from Galena KS High School with the class of 1976.
After earning a Bachelor's degree, he taught shop class at Rich Hill, MO. He then began working at Missouri Steel Castings, Joplin as a sales manager, a position he held several years. He then worked as a diesel mechanic at Ron's Truck Repair in Duneweg, MO and last worked on the Glades Farm.
Keith was a member of Forest Park Baptist Church, Joplin, MO. He was quite an outdoorsman and was interested in archeology. He oversaw archeology digs with students from MSSU. He enjoyed fishing, camping, canoeing, searching for arrowheads, hunting for bottles, and metal detecting. He liked driving Dirt bikes and ATV's and going antiquing at area flea markets. He enjoyed music, playing his guitar and singing.
Surviving is one daughter, Kwinna Slade (husband, Derek), Joplin; three grandchildren, Hadley Slade, Anora Slade and Everett Slade; one brother, Philip Glades, Joplin, and one sister, Vicki Hoffman (husband, Scott), Baxter Springs, KS.
The family will receive friends from noon to 2 pm, Friday, April 24, 2020 at Derfelt Funeral Home, Galena, KS. COVID-19 restrictions will be observed.
Private graveside services will be held at Ozark Memorial Park Cemetery, Joplin, Missouri.