July 8, 1937–April 11, 2020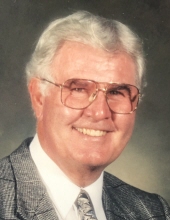 Melvyn Neil "Bill" Hall, Galena, Kansas, passed from this life April 11, 2020, at 8:26 a.m. surrounded by his family. Bill was born July 8, 1937, in Galena, KS, to Clark "Curly" and Alberta Hall. Bill attended and graduated from Galena Schools with the Class of 1955 and received his Bachelor of Science in Education in 1961 and his Masters in Education in 1972 from Pittsburg State University. He began and ended his 30 year teaching career with the Joplin Schools teaching at North Junior High, Memorial High School and Joplin Jr. High. Bill served in the Army Reserves beginning in 1958.
Bill became a member of the Galena Volunteer Fire Department in 1956 and held the ranks of Secretary, Asst. Chief, and most recently served as Fire Chief since 1985. Bill's dedication to the department was an extension of his love of his hometown, Galena. Bill's desire was always to make things "bigger and better" and demonstrated that by his tireless work upgrading equipment and training the men and women of the department who he loved like his own family. Bill's passion for Galena Days, a yearly birthday celebration for the town of Galena, helped not only to promote Galena but to generate funds for the addition and improvement of equipment for the Fire Department. Bill served as Master of Ceremonies for the celebration for 40 years and worked to provide a fun and entertaining celebration for all to enjoy. Bill was an active participant of the Fire Chief's Association and was proud of the camaraderie that the area departments shared.
Bill's service to others extended to his over 25 year "part-time" job working with Derfelt Funeral Homes and Derfelt Ambulance Service. A natural extension of his love of serving people, Bill worked both with funerals and the ambulance service working closely with the Derfelt family. That relationship naturally evolved into family and is still considered so today.
Never one to sit still, Bill also worked part time for Yellow Freight, Sunflower Supply and continued subbing at both Joplin and Galena Schools after his retirement. His commitment to community included his involvement in the Galena Lion's Club, a lifetime member of the Galena Mining and Historical Museum even donating the original "Katy Depot" building the museum is housed in. Bill was a faithful member of First Baptist Church in Galena for 45 years. He held various positions but his most treasured was door greeter where he shook everyone's hand, gave them a smile and welcomed them with a joke when they entered.
Bill married Judy Langford July 13, 1962, in Galena. Anyone who spoke to Bill will remember that he always referred to Judy as his "bride". She survives along with his three children: Leigh and David Ryan, Becky and Kirk Qualls, and Steve and Jessica Hall all of Galena. Bill was also blessed with seven grandchildren: Leslie & Doug Heady, Stephanie & Jared Lightle, Ashley & David Groves, Kellen Ryan, Haley Hall, Abby & Andrew Weaver, and Garrett Hall; two bonus grandchildren: Adam & Aidan Meier; and two great-grandchildren: Christian Heady & Baby Lightle.
Bill will lie in state at Derfelt Funeral Home, in Galena, KS, on Wednesday and Thursday, April 15th & 16th, from 9-5. A private family graveside service will be held at a later date at Ozark Memorial Park Cemetery. A public celebration of life will be held at a later date. In lieu of flowers, memorial contributions can be made to First Baptist Church, Galena, KS, or Galena Volunteer Fire Department in care of the funeral home.