June 9, 1944–March 25, 2020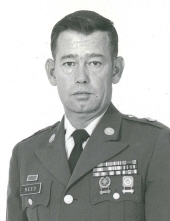 Thomas E. "Tom" Reed, 75, of Carl Junction, Missouri, passed away Wednesday evening, March 25, 2020, at Freeman Hospital West in Joplin.
Tom was born June 9, 1944, in Carterville, Missouri, one of eight children born to the union of Troy and Nettie (Wallace) Reed. He was a graduate of Webb City High School. Following high school, Tom was drafted into the U.S. Army and retired in 1985 after achieving the rank of Master Sergeant. During his Army career, he served two tours in Germany and three tours in Vietnam. Following his military retirement, Tom began his career with Walmart, retiring in 2010. He also worked for the City of Carterville.
Tom loved to spend his free time fishing, reading and watching John Wayne movies. His favorite authors were Louis L'Amour and Clive Cussler. He loved his family and will be missed by all who knew him.
On August 17, 1972, Tom was united in marriage to Ida Mae Langworthy and together they shared 48 wonderful years of marriage.
Additional survivors include a sister, Dorothy Reed, of Webb City; several nieces and nephews; as well as a host of extended family and friends.
Tom was preceded in death by his daughter, Melissa Lynn Reed.
Graveside funeral services will full military honors will be held at 10:00 a.m. Saturday, March 28, 2020, at Ozark memorial Park Cemetery in Joplin with Pastor Randy Matthews officiating. Honorary pallbearers are Steve Pritchard, Bobby Little, Todd Hunter, Larry Prinz, and two nephews, Mark Gordon and Jimmie Reed. In lieu of flowers, memorial contributions may be made to Joplin Humane Society.
Arrangements are under the personal care and direction of Hedge-Lewis-Goodwin Funeral Home, Webb City, Missouri.