May 10, 1933–March 16, 2020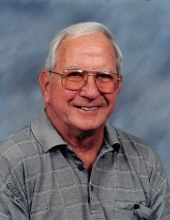 Mr. Herbert Boyce Tidd, 86, of Joplin, Missouri, passed away Monday, March 16, 2020, at Spring River Christian Village.
Herbert was born on May 10, 1933, in Neosho Falls, Kansas, to the union of the late Fred and Ola (Harness) Tidd. He was a 1952 graduate of Neosho Falls High School. Herbert met Vera Herndon on a blind date and on October 3, 1952, they were married in Eureka Springs, Arkansas.
Herbert worked for Monarch Cement Company in Humboldt, Kansas, before he was drafted into the United States Army where he served during the Korean conflict. Following his service, he returned to Monarch Cement until 1961 when he began his career with the United States Postal Service in Olathe, Kansas. He dedicated 28 years to his postal service career, retiring in 1989. Following retirement, Herbert and Vera moved to Grand Lake and later relocated to Joplin in 2003.
Herbert enjoyed woodworking, fishing and even skiing in his younger years. Above all, he loved his family and the time he was able to spend with them. He was a 15-year member of Harmony Heights Baptist Church in Joplin.
Herbert was preceded in death by his parents; and two siblings, Warren Tidd and Lucille Dill.
Survivors include his loving wife of 67 years, Vera, of the home; three children, Brenda Tidd, of Joplin, Steve Tidd and wife, Debbie, of Olathe, Kansas, and Mark Tidd and wife, Chris, of Shawnee, Kansas; seven grandchildren, Brian Tidd (Tiffany), Nickolas Tidd (April), Christopher Tidd (Tara), Derek Tidd, Darren Tidd, Lindsey Tidd and Wayne Tidd; two step-grandsons, Michael Miller (Audry) and Brandon Miller (Tiffney); 14 great-grandchildren; as well as a host of extended family and friends.
Graveside funeral services will full military honors will be held at 2:00 p.m. Friday, March 20, 2020, at Ozark Memorial Park Cemetery with Pastor Charlie Burnett officiating. Those honoring his life by serving as pallbearers are his grandchildren, Brian, Nickolas, Christopher, Derek, Darren and Wayne with Lindsey as an honorary pallbearer. In lieu of flowers, memorial contributions may be made in his memory to Gideon's International, the American Diabetes Association, the National Kidney Foundation or the American Cancer Society.
Arrangements are under the personal care and direction of Thornhill-Dillon Mortuary, Joplin, Missouri.