January 22, 1965–March 8, 2020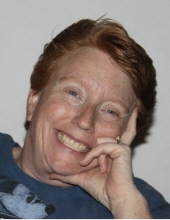 Tammy Lynn Aggus, 55, passed away at Mercy Hospital in Joplin, MO, at 1:05 a.m. on Sunday, March 8, 2020.
Tammy was born on January 22, 1965 in Bedford, IN, to Robert and Lynn Crane.
In 1983, she was a member of Bedford North Lawrence High School's first girls' basketball championship team. While in high school, she worked at Jiffy Treat, which was formative to her work ethic.
After graduating from BNLHS in 1983, she went on to graduate from Indiana University in 1986 with a Bachelor's in mathematics education. She did extended substitute teaching at Mitchell and Shawswick schools in Indiana.
While in Indiana, she was a member of Pinhook Christian Church and Mundell Christian Church. Once in Joplin, she was a member of Blendville Christian Church and College Heights Christian Church.
After accepting Jesus at age 20, she decided to go to Ozark Christian College (OCC) in Joplin, MO, in order to learn more about her newfound faith.
During her time at OCC, she worked at McDonald's and the Tutoring Company.
She graduated from OCC in 1990 with a Bachelor's in Biblical Literature.
While at OCC, Tammy began attending Blendville Christian Church in Joplin, where she met a young door greeter named Spencer Aggus. Time went on, and they began dating in August 1990.
Just weeks later, Tammy began teaching math, science and Bible and coaching volleyball and basketball at College Heights Christian School (CHCS).
She married Spencer on Nov. 10, 1995, and to this union were born Andrew Bill and Luke Robert.
In 1998, she left CHCS to begin raising her family.
During this time, Tammy began leading at Quizzing for Christ, counseling and mentoring many of her peers and acting, directing and serving on the board at Stained Glass Theatre Joplin, where she survived the May 2011 tornado. Following the tornado, she founded an organization called Joplin Missouri Christian Athletes through which she has allowed hundreds of youth to participate in volleyball and basketball. She also taught math at various homeschool groups and at Crowder College in Neosho, Webb City and McDonald County. Tammy was just nine weeks away from earning her master's degree in education from Pittsburg State University.
Tammy is survived by her husband Spencer, her son Drew (Rylee) Aggus of Platte City, MO, and her son Luke Aggus of the home. She is also survived by her parents Bob and Lynn Crane of Bedford, IN, her brother Robert (Moriah) Crane of Indianapolis, IN, along with two nieces, a nephew and a great niece.
A visitation service will be held at Thornhill-Dillon Mortuary from 5:00-8:00 p.m. on Wednesday, March 11. A celebration of life will be held at College Heights Christian Church at 11:00 a.m. on Thursday, March 12. Burial will follow at Ozark Memorial Park Cemetery in Joplin, Missouri.
In lieu of flowers, donations may be made to Stained Glass Theatre Joplin or Ozark Christian College.