June 9, 1936–February 17, 2020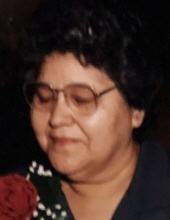 Margarita (Mendez) Tyler, age 83, passed away at 8:37 am, Monday, February 17, 2020 at her home following an illness.
Margarita was born June 9, 1936 in Wharton, Texas. She was one of 9 children born to Luciano and Anita (Salas) Mendez. She moved to the Joplin area in 1986 from the State of Texas.
She was the wife of a Baptist minister. She and her husband ministered at churches in Texas and Missouri. She also served in different bilingual congregations. She used to regularly travel to Hispanic countries on mission trips. She received the greatest joy when she was helping somebody in need. She was a translator and assisted countless families working with the WIC program in Joplin.
Margarita was married to Terry Tyler on April 20, 1968 in Ft Leavenworth, Kansas. Terry went home to be with the Lord on September 24, 2016. She was also preceded in death by one son, Terry Tyler who died October 22, 2012.
Surviving is one son, James Roy Tyler, Joplin, MO; her daughter in law, Lisa Tyler, Carl Junction, MO; 4 brothers, Juan Mendez, Montclair, CA, Pete Mendez, Baird, TX, Benjamin Mendez, Kilgore, TX and Rudy Mendez, Houston, TX; one sister, Angel Garabalda, Demitt, TX; six grandchildren, Kristen, Ashlynn, Elizabeth, Madalyn, Matthew Terry, and Jennakate; and three great-grandchildren, Elias, Inara, and Jaxson.
Funeral services will be at 2:30 pm, Sunday, February 23, 2020 at Derfelt Funeral Home, Galena, KS. Pastor Matt Derfelt will officiate. Following the service, the family will receive friends at the funeral home until 4:00 pm.
A private burial will take place at Ozark Memorial Park Cemetery in Joplin.