December 8, 1936–January 23, 2020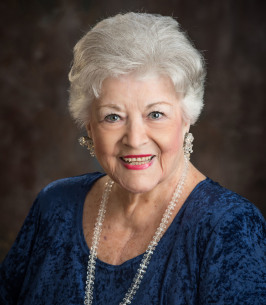 Judith Ann Ellard age 83, passed away on January 23, 2020 at Wildwood Senior Living after a brief stay at Freeman Hospital in Joplin, Mo.
Born December 8, 1936 in Joplin, Mo., to Max and Gladys (Sours) Hunter. As a child, her family moved to Southern California. She graduated high school from Pomona High School, Pomona, California and attended Mt. San Antonio Community College in Walnut, Ca. At the age of 19, she married the love of her life, Bruce W. Ellard on December 20, 1955.
In 1970, they moved back to Joplin, Mo. and she began working as an area coordinator with the American Heart Association. She also started the local chapter of the Joplin Area Diabetes Association. She was very active in her church and enjoyed singing in the choir as well as singing with the gospel quartet group "His Folks" for several years. Judy was an amazing wife, mother, talented singer and artist.
She is preceded in death by her husband of 63 years, Bruce W. Ellard. They have two daughters, Cynthia Ann Goff and Linda Louise Brown (Chuck Brown). Also surviving are three grandchildren Zachary Hunter Goff, Reid William Brown, Becca Grace Brown and a great granddaughter, Cali Ann Goff. They lovingly called her "Honey".
A memorial service will be held on Tuesday, February 4, 2020 at 2:00 p.m. at Fellowship Baptist Church located at 2827 E. 32nd Street Joplin, Mo.
The family would like to thank the entire staff of Wildwood Senior Living and Three Rivers Hospice for the kindness and compassion during this time.
Family asks in lieu of flowers that contributions can be made to Watered Gardens, in Joplin, Mo., or the Joplin Humane Society in memory of Judith A. Ellard.