June 18, 1932–November 30, 2019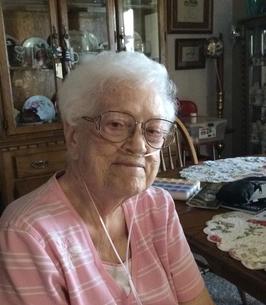 Shirley Ann Humphreys, age 87, of Joplin, went home to be with the Lord, on Saturday November 30, 2019, at Freeman West Hospital, following an illness.
Shirley was born on June 18, 1932 in Springfield, IL, the daughter of the late Arthur and Vera (Hutchison) Shaunce. She grew up in Springfield, IL, moving to Eagle Grove, IA, where she met Chuck, and together they crafted a lifelong marriage of sixty-six years.
Shirley's life was devoted to her husband, children, grandchildren, great-grandchildren and serving Christ. She moved to Joplin in May of 1988, moving here from Virginia Beach, VA. She was a member of College Heights Christian Church. She was a volunteer for Freeman Hospital. She and Chuck spent many happy winters in Texas. She was the last of her siblings to make it home.
Shirley is survived by her loving husband, Chuck Humphreys, Joplin; her children, Terry Humphreys (Gloria), Kathy Ebeling (Fred) and Ron Humphreys (Pam); ten grandchildren and nine great-grandchildren; she would want you to know, plus one on the way!
Funeral services will be 10:00 a.m. Thursday at Mason-Woodard Mortuary Chapel. Randy Gariss and Rick Bushnell will officiate. Burial will follow the service at Ozark memorial Park Cemetery. The family will receive friends from 6-7 p.m. Wednesday at the Mortuary. The family has requested contributions be given to God's Resort in care of the Mortuary.