August 5, 1921–May 16, 2019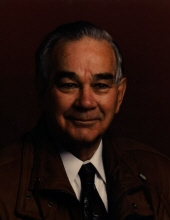 George Jackson went to be with the Lord on Thursday, May 16, 2019 at Mercy Hospital, Joplin, MO.
He was born August 5, 1921 in Grove, OK to Denver Ray and Lucy (Carey) Jackson. He had lived in the Joplin-Seneca area since 1964 moving from Galena, KS.
George had a full and interesting life. He worked as a maintenance mechanic at Eagle Picher and Gulf Oil Industries. He enjoyed reading, hunting, and traveling.
He served in the US Army during World War II. He was a tank driver and fought in the battle of Anzio. He was a Purple Heart recipient. He enjoyed sharing stories of his service.
George loved his family and was a dedicated father and grandfather. He was married to Norma Gibson in April, 1946. She passed away July 10, 1991. He was also preceded in death by his parents, his son, George (Buddy) Jackson, 3 brothers, Lee Jackson, Dempsey Jackson and Gene Jackson; two sisters, Helen Lenz and June Hunt and one grandson Lucas Jackson.
George will be missed by his daughters, Connie Pierson (husband, Steve), Springfield, MO, and Kitty Allen, Nixa, MO; his sister, LaJunta Dudley, Joplin, MO; 9 grandchildren, Kristina Parker (husband, Ron), Kathy Barganier (husband, Brian), Brandi Bergman (husband, Clint) Todd Pierson (wife, Melissa), Lori Hummelberg (husband, Anthony, Jeff Peirson (wife, Rachel), Brian Pierson (wife, Megan) Trey Jackson (wife, Audra), 22 great-grandchildren, and his companion, Marilee Squirrel, Joplin, MO.
The family will receive friends from 11:00 am – 12:30 pm, Friday, May 24, 2019 at Derfelt Funeral Home, Galena, KS.
Funeral services will be at 1:00 pm, Friday, May 24, 2019 at Derfelt Funeral Home, Galena, KS. Clint Bergman will officiate. Burial will be in Ozark Memorial Cemetery, Joplin, MO.