January 10, 1923–May 8, 2019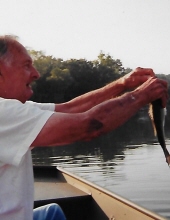 Cecil Lloyd Hammond, age 96, of Joplin, Missouri, passed away peacefully at his home on Wednesday, May 8, 2019, surrounded by his family.
Cecil was born January 10, 1923, in Joplin, Missouri. He was a diligent and dedicated worker, only missing three days of work during his entire career. His focus was always his family and meeting their every need. Cecil was fundamental in the construction of Fort Crowder in Neosho, where he would hitch a ride to work every morning from Joplin in order to provide for his family. Following Fort Crowder, Cecil worked many years for Treman Galardo construction as a heavy equipment operator and he was known as one of the best in the area. Cecil enjoyed camping at Grand Lake, spending much of his free time fishing and loving on all animals. He was truly an honest man and his experiences and age-earned wisdom set many great examples for his family to follow.
Cecil met Rosa Lee Walker on a blind date and on December 6, 1941, they were united in marriage, sharing nearly 63 years together before her passing on November 13, 2004. Cecil and Rosa Lee both loved to dance and they certainly danced their way through life – through the good times and the bad – and now they are finally dancing together again.
Cecil was also preceded in death by his parents, Hobert and Fannie (Williams) Morgan; and a son, Gary Hammond, in 1992.
Survivors include his son, Randy Hammond (Rebecca) of Joplin; two grandchildren, Jessica Turner of Webb City and Joshua Hammond of Joplin; two great-grandchildren, Keagon and Mason Turner, both of Webb City; his daughter-in-law, Marilyn Hammond; his well-fed dog, Yippy; as well as a host of extended family and friends.
Graveside funeral services for Cecil will be held at 1:00 p.m. Monday, May 13, 2019, at Ozark Memorial Park Cemetery in Joplin with Chaplain Roger Flint officiating. Viewing will take place from 12:00 – 4:00 p.m. Sunday in the chapel of Thornhill-Dillon Mortuary.
Arrangements are under the personal care and direction of Thornhill-Dillon Mortuary, Joplin, Missouri.