June 15, 1932–April 15, 2019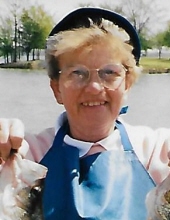 ~ Lovingly Written by the Family ~
Alma "Levita" (Sill) Kersey, age 86, entered the land of peace and rest of her Heavenly father on April 15, 2019. She passed away at the Communities of Wildwood surrounded by family after a long illness.
Levita was the sixth child of seven children born to Dewey H. and Ethel (Hayes) Sill at the Sill Farm on June 15, 1932, in rural Jasper County. It was an early, warm summer and the older children recall being sent to the woods by their grandmother to gather blackberries while the new baby was born.
Levita attended Joplin Schools, graduating in 1950. While in high school, she played the violin in the school orchestra. Apparently, a favorite duet of Levita and Flo was to serenade her family with numerous renditions of "Rachel and Reuben". Levita's third grade year at West Central will be remembered for her teacher's quick thinking. The teacher heard a rumble and ushered the class out of the room before the ceiling collapsed.
On December 31, 1950, Levita married her high school sweetheart, Bob Kersey, at Central City Christin Church. In 2000, they celebrated their 50th anniversary at the same church.
Levita's first job was GE Electric. Soon after, she was employed at First State Bank in Joplin where she moved from teller to head cashier to First Vice President and the bank's Board of Directors. She retired after a long banking career to travel with Bob around the country and explore.
Levita was active in several organizations. She was a past president of the Joplin Credit Women International, past chairman of the Ozark Chapter of the National Association of Bank Women and a past director of the Ozark Chapter of the American Institute of Banking. She was active in the Class of 1950 reunions and in her church, which she attended since childhood.
Levita is survived by her sister, Flo Howard, and sister-in-law, Helen Ruth Kersey, of Joplin and many nieces and nephews who will remember the many acts of kindness and the Family Christmas celebrations at Aunt Vete's. She is also survived by her bestie friend, Judy Lambeth, and the many friends made at Lake Fork, Texas, where Bob and Vete wintered only to spend time fishing and playing golf.
Services will be Friday, April 19, 2019, at 1:00 p.m. at Thornhill-Dillon Mortuary. Johnie Adkins, Minister, will officiate. Interment will follow in Ozark Memorial Park Cemetery. Pallbearers honoring Levita are family members, Mark Kersey, Joe T. Sill, Dale Sill, Janice Garcia, Judy Lambeth and John Howard. Honorary pallbearers are Sidney Lorah and Mike Kersey. The family will receive friends from 6:00 – 7:00 p.m. Thursday at the mortuary.
In lieu of flowers, the family requests donations be sent to Central City Christian Church or to a charity of one's choice.
The family would like to thank the many people who have assisted in Aunt Vete's care. To Debbie McNichols who has been with Aunt Vete since March 2013 to Joyce Washburn who cared for Vete since the spring of 2014 and Cindy Krider who joined the loving circle the last two years. Aunt Vete thrived under these ladies' care. To Sherri and the staff at the Communities of Wildwood, you were caring and compassionate the last ten days and helped the family through the transition of life.
This obituary would not be complete without mentioning the profound effect the May 2011 Joplin tornado had on Levita and Bob. Their world was shaken on the afternoon of May 22, 2011. In the path on 26th Street, the home they had built in the 1950s was in shambles. Vete was still recovering from a 2003 episode of Guillain-Barre` Syndrome and the devastation and exhaustion was difficult to bear. After the death of her husband from lung cancer the insidious fog of Alzheimer's crept into her mind, slowly robbing this independent woman of her decision-making skills and ability to perform simple tasks. However, it could not take her ability to love, recognize the voices of those who cared for her on a daily basis and the feel of sunshine on her face.
Godspeed, Aunt Vete. Welcome home. An ice cream cone will be waiting for you and Bob.