May 22, 1927 – March 23, 2019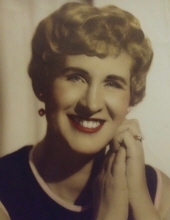 On Saturday, March 23, 2019, Lois Hall passed away at the age of 91 at Freeman Hospital in Joplin, Missouri.
Lois Louise Morehouse was born May 22, 1927, in Hopkins, Missouri, to Floyd and Alice Morehouse. She was big sister to two younger siblings, Joan and Neal.
She moved to Joplin, Missouri, and in 1946, she married Donald Marion Hall. She is the mother of four biological children, Elizabeth Joyce, Donald Marion, Jr., Walton Lee and Steven Michael. She also mothered Charity Ann and David Eugene. She was a proud grandmother to 23 grandchildren, 29 great-grandchildren and 17 great-great-grandchildren. She was a loving matriarch to a vast amount of family in Missouri, Iowa, Arizona and California.
She was a Licensed Practical Nurse and enjoyed her time caring for others. She was a Rehabilitation Counselor at Ozark and spent time with the AA Program. She even ran a hotdog stand for a short time! She was a crafter and loved making bows and clothes for her grandchildren. She was an active member of the Senior Citizen Center and the Iris Club.
She was preceded in death by her parents, Floyd and Alice; the father of her children, Don; her brother, Neal; two sons, Don and Steve; and a granddaughter, Isabella.
Funeral services will be held on Monday, April 1, 2019, at 2:00 p.m. in the chapel of Thornhill-Dillon Mortuary with Pastor Trista Roberts officiating. Burial will follow at Ozark Memorial Park Cemetery in Joplin. Those honoring her life by serving as pallbearers are Shawn Yearton, David Hall, Thomas Calhoun, Jamie Ridenour and Scott Hall.