November 3, 1946 – March 22, 2019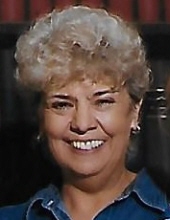 Ola Sue Green, age 72, passed away March 22, 2019, at Cox South Hospital.
She was born on November 3, 1946, and resided in Springfield, Missouri. She began working at Cox Hospital in 1977 and retired in 2014 after 37 years of service.
Surviving are her two daughters, Angela Westerman and Crystal Campbell; her son-in-law, Bart Westerman; five grandchildren, Dakota Calentine, Adrianna Westerman, Tiffany Westerman, Summer Westerman and Max Westerman; and three great-grandchildren, Meilyn Westerman, Thomas Westerman and Madilyn Westerman.
Funeral services will be held at 2:00 p.m. Tuesday, March 26, 2019, in the chapel of Thornhill-Dillon Mortuary with Pastor Marilyn O'Brien officiating. Burial will follow at Ozark Memorial Park Cemetery in Joplin. Those honoring her life by serving as pallbearers are Bart Westerman, Max Westerman, Tiffany Westerman and Dakota Calentine.