May 2, 1932–March 17, 2019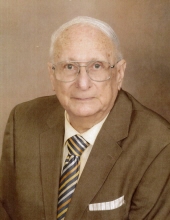 Richard W. Massa was born May 2, 1932, in Carona, Kansas, the son of Columbo and Ella Whitehead Massa. The family moved to Joplin in 1933, and Richard attended Joplin public schools, graduating from Joplin High School in 1950. He attended the University of Missouri-Columbia, receiving a Bachelor of Journalism degree in 1954 and a Master of Arts degree in Journalism in 1955. He did further graduate study at the University of Arkansas at Fayetteville and at the University of Missouri-Columbia. He also had taken courses at the 7th of May College in Copenhagen, Denmark, and at the Sorbonne in Paris, France. He was on the faculty of the School of Journalism at the University of Missouri-Columbia in 1955 before entering the U.S. Army. He served two years on active duty in the Army, stationed at the Branch U.S. Disciplinary Barracks in New Cumberland, Pennsylvania.
After the service, he taught at the Mississippi State University for Women in Columbus, Mississippi; the Oklahoma College for Women which later became the Oklahoma College of Liberal Arts and today is the University of Science and Arts for Oklahoma in Chickasha, Oklahoma, and at Northeast Missouri State University (today's Truman State University) in Kirksville, Missouri. In 1972 he joined the faculty of Missouri Southern State University as an associate professor of journalism and adviser to the student newspaper, The Chart. In 1979-80 he served as interim head of the Department of Language and Literature and then as acting head of the Department of English. In 1980 he became the first head of the newly established Department of Communications which he founded and in his tenure as department head established radio station KXMS-FM and television station KGCS. In 1996 he became the first director of the newly established Institute of International Studies, remaining also as head of the Department of Communications. In this dual position he worked for expansion of foreign language education and development of the first bi-lateral agreements between Missouri Southern and a number of universities in Europe and Africa and originated a number of programs still in existence today. He retired in 1999.
During his 40-year career in higher education he received numerous honors. Twice he was named outstanding teacher at the University of Science and Arts for Oklahoma and once at Missouri Southern State College. In addition, in 1996 he received the Missouri Governor's Award for Excellence in Education. On his retirement, the Missouri House of Representatives and the Missouri Senate issued proclamations honoring him. He has been listed in a number of volumes, including Who's Who in the World; Who's Who in America; Who's Who in Media and Communications; American Men of Science and Personalities of the South. In 2001 he received Missouri Southern's Broadcast Pioneer Award for his achievements in telecommunications, and in 2012 he was named to The Chart's Hall of Fame. In 2017 former students established an endowed scholarship in his name, and in 2018 he was the recipient of MSSU's Lion Hearted Award.
He was the author, co-author, and/or co-editor of a number of articles and books, including Contemporary Man in World Society; Aesthetic Man: His Contemporary Values; Inquisitive Man: His Quest for Freedom and Identity; Philosophical Man; and Technological Man. He developed textbooks of readings for humanities classes in the Medieval and Renaissance periods, and for various team-taught classes at the University of Science of Arts for Oklahoma, many in collaboration with his wife, Teresa Ramirez.
He had worked as a newspaper reporter and editor and had written for a number of newspapers as a correspondent and as a free-lancer. For a number of years he also was co-owner and vice president of a public relations firm in Oklahoma City and was a part-time speechwriter for various political figures in Oklahoma, including a governor and a U.S. Senator. He also managed a successful campaign for the U.S. congress. He was writer, producer and director of two television programs which aired on PBS stations around the nation between 1969 and 1975: Patterns in the Arts which was based on the life and music of Franz Liszt, and Love Lost: Poetry into Music, which examined the process of creating songs. He also was responsible for production of a number of other one-time television programs for PBS prior to coming to Joplin. He was a founder and first secretary-treasurer of the American Liszt Society and was manager for a concert pianist.
In Joplin he was a member of the First Community Church, where he served for eight years as chancel assistant, and served previously as an elder and had served as Chairman of the Board. He also attended St. Mary's Catholic Church.
During his years of retirement, he and his wife, who had retired from Pittsburg State University, devoted much of their time working for charitable causes and established endowed scholarships at the University of Oklahoma and the University of Missouri, while awarding annual scholarships at Pittsburg State University and contributing to scholarship funds at the University of Science and Arts for Oklahoma. They also contributed funds to Missouri Southern State University for various activities and programs there, including the alumni center, the African Art collection, The Chart's Hall of Fame, the Institute for International Studies, and the Julio Leon Center for Health Sciences. And they also contributed to area art programs, most notably Pro Musica. After former students established an endowed scholarship in Richard's name at MSSU, Richard and Teresa contributed additional funds to that scholarship.
He is survived by his wife Teresa whom he married in 1971; one son and daughter-in-law, Tod and Melinda Massa of Richmond, VA., two daughters and sons-in-law, Daphne and Brad Ewing of Highlandville, MO., and Sara and Don Boyle of Alpharetta, GA; by these grandchildren: Katie Boyle of Athens, GA; Brendan Boyle, of Chicago, IL; Peter Boyle and wife Ella of Austin, TX, Thomas Boyle and wife Alexandra of West Palm Beach, FL; Phillip Boyle, and Margaret Mary Boyle, of Alpharetta, GA.; Dr. Alyson Baker of Indianapolis, IN; James Massa of Midlothian, VA., and Zachary Massa and wife Kristin of Holden, MA; and by two great-grandchildren: L. T. Spencer and Liam Spencer of Richmond, VA.
His parents died previously, as did two sisters, Louise Massa Joy and Marguerite Massa Frkovich, and a brother, Antone.
Funeral services are 10:00 a.m. Thursday, March 21, 2019, at First Community Church in Joplin. Burial with full military honors will follow at Ozark Memorial Park Cemetery in Joplin. The family will receive friends from 5:00 – 7:30 p.m. Wednesday in the chapel of Thornhill-Dillon Mortuary.
Contributions may be made to the Missouri Southern Foundation for the Richard Massa Endowment Scholarship or to First Community Church.