July 27, 1920–February 18, 2019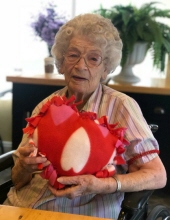 Mrs. Irene "Mimi" Bryan, age 98, of Joplin, Missouri, passed away on Monday, February 18, 2019, at Freeman Hospital West following a short illness.
Irene was born July 27, 1920, in Muskogee, Oklahoma, to the union of the late Jamie Dixon and Jessie Myrtle (Stipe) West. Growing up, she loved to sing with her dad on the radio. In 1938, she met a man named Harold Bryan and, as they always said, she chased him until he caught her. Harold was stationed in Lexington, Kentucky, while serving in the Army. Irene took a train to Lexington and on April 3, 1943, right before Harold was leaving to go overseas, they were united in marriage and together they shared 50 years of marriage before his passing in 1993.
Irene had a well-known, God-given gift in sewing and she used her talent to serve others throughout her lifetime. She started the baby quilt ministry at her church and, as she told her pastor, she would continue to sew for the babies as long as God gave her life. She was a devoted member of Joplin Heights Baptist Church and served there for almost 55 years.
Growing up, Mimi was the cool grandma and you could find her riding go-karts and even jet skiing. She had a love for camping and volunteering, so she combined the two and volunteered for many years in the kitchen at Baptist Hill Church Camp where her grandchildren attended. Mimi would reward herself later in the fall by attending the "Recycled Teenager" camp, also known as the camp for senior citizens. She could play a mean game of Rummikub and taught many how to play along. Irene was a fantastic cook and she loved Christmas and decorating with snowmen. She was all about her family and the way she loved them will live on in their hearts forever.
Irene was preceded in death by her parents; her husband, Harold; her siblings; and her daughter, Lynn Stark.
Survivors include her son, David Bryan, of Ft. Worth, Texas; grandchildren, Jessica Yoos and husband, John, of Augusta, Georgia, Scott Stark and wife, Dani, of Ava, Missouri, Heather Goodnight and husband, Joe, of Neosho, Missouri, and Kirsten Bledsoe and husband, Matt, of Mexico, Missouri; 11 great-grandchildren; a nephew, Mike Bryan, of Scammon, Kansas; as well as a host of extended family and friends.
Funeral services are 10:00 a.m. Thursday, February 21, 2019, in the chapel of Thornhill-Dillon Mortuary with Pastor Keith Brumfield officiating. Burial will follow at Ozark Memorial Park Cemetery in Joplin. The family will receive friends for visitation from 5:00 – 7:00 p.m. Wednesday at the mortuary. In lieu of flowers, memorial contributions may be made payable to Joplin Heights Baptist Church in care of the mortuary.
Arrangements are under the personal care and direction of Thornhill-Dillon Mortuary, Joplin, Missouri.