July 21, 1960–January 29, 2019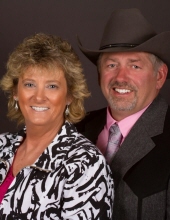 Mrs. Pamela Sue Quarles, 58, of Webb City, Missouri, passed away Tuesday, January 29, 2019.
Pam was born in Webb City, Missouri, on July 21, 1960, to the union of the late William Harold and Fannie Jo (Riggs) Hunter. She was a 1978 graduate of Webb City High School. Pam was united in marriage to Terry Quarles on July 4, 1986, and together they shared over 34 years of memories. She owned and operated her own hair salon, Cardinal Salon, in Webb City for a number of years and also helped with the operation of the family businesses, Quarles Construction and RedNeck RollOff.
Pam was a go-getter and a giver. She loved her family deeply, especially her grandchildren, and she was always doing for others. Pam was a die-hard Webb City Cardinals fan. She loved horses, crafting, shopping, visiting area casinos and taking care of her family. She was a devoted supporter of the Shriners Hospitals for Children.
Pam was preceded in death by her parents.
Survivors include her husband, Terry Quarles, of the home; two sons, Michael Butcher, Jr. of Lamar, Missouri, and Dustin Butcher (Brandy) of Webb City; her daughter, Kristin Quarles (Mike Anderson), of Webb City; nine grandchildren; two brothers, Bill Hunter (Susan) and Scott Hunter (Sheryl Thurlo), of Webb City; and one sister, Diane Hoovens (Jim), of Marionville, Missouri; as well as a host of extended family and friends.
Funeral services for Pam are 10:00 a.m. Monday, February 4, 2019, in the chapel of Hedge-Lewis-Goodwin Funeral Home with Pastor Marilyn O'Brien officiating. Burial will follow at Ozark Memorial Park Cemetery in Joplin. Those honoring her life by serving as pallbearers are Dustin Butcher, Breanna Butcher, Cali Butcher, William Hunter, Jeff Hunter, Jeffrey Carsel, Austin Carsel and Robert Hudson. The family will receive friends from 2:00 – 4:00 p.m. Sunday at the funeral home. In lieu of flowers, please honor Pam with contributions payable to the Shriners Hospitals for Children – St. Louis.